Tremco Commercial Sealants & Waterproofing

Tremco sealants include high performance multi-component and one-part urethane and silicone sealants, designed to seal the entire building envelope.
TREMproof® 260
TREMproof® 260 Spray-Applied Waterproofing Membrane is a polymer-enhanced, single-component, fluid-applied asphalt emulsion waterproofing membrane. It is designed for spray application to concrete, masonry and other structural substrates, primarily in vertical installations.
TREMproof® 260 is water-based, so it can be applied to damp or green concrete. Also, it complies with the Volatile Organic compound (VOC) limits established by the South coast Air Quality Management District (California). Typical applications for TREMproof 260 include foundation walls, tunnels, and planters.
TREMproof® 250 GC
Aliphatic, rapid curing, high solids, VOC compliant, modified polyurethane waterproofing membrane that can be applied to "Green" Concrete.
TREMproof 250 GC is a fluid-applied, elastomeric waterproofing membrane that can be applied to Green Concrete. TREMproof 250 GC is commonly used as a between slab on plaza decks, parking decks, roof terraces, podiums, and reflecting pools. TREMproof 250 GC is also used for waterproofing foundation walls, landscaped areas, planter boxes, tunnels, etc. The TREMproof 250 GC is an effective membrane for use on concrete, wood, metal and masonry surfaces. Available in three viscosities, rollable, self-leveling and trowel.
ExoAir® 120
ExoAir® 120 Fluid-Applied Air & Vapor Barrier Membrane is a monolithic elastomeric membrane designed to be spray-applied or rolled onto exterior above-grade walls to seal wall assemblies and prevent air infiltration/exfiltration, vapor transmission and water penetration.
ExoAir 120 is a seamless, fully adhered air and vapor barrier. It is water-based, environmentally responsible and can be applied to damp or dry surfaces without the use of a primer. ExoAir Self Adhered Air and & Vapor Barrier Membrane is used as a transition membrane into door and window openings and is designed for use with ExoAir 120. ExoAir 120 is compatible with ExoAir® TWF – Thru-Wall Flashing Membrane and other ExoAir Air Barrier System components.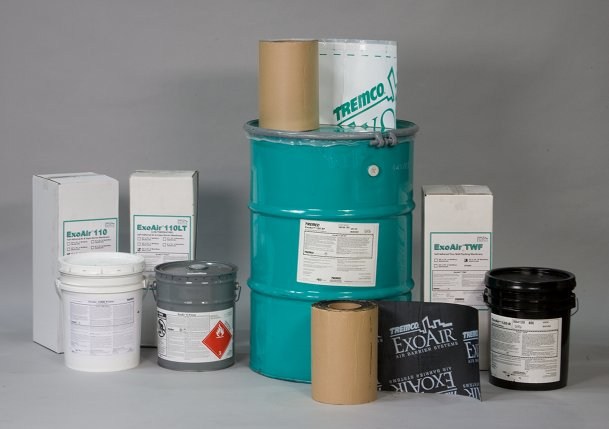 Tremco Building Envelope Specialists